Hopefully this endeavour will last longer than my short attention span!   Writing is a chore so rather than spend hours thinking of a creative introduction, let's just say that I'm 43, live in NC, have a tendency to hoard anything old that's made in USA and has wires or wheels.   Pontiacs, Buicks, and Oldsmobiles of the 70's would be my favorite modes of transportation.  
My current daily driver is a 1987 Pontiac Fiero with a dull-as-dishwater 2.5 liter Iron Duke and automatic transmission.  What makes this thing special to me is that it's blue.   Blue was only offered in 1987 and is by far my favorite Fiero color.   After close to fifteen years of looking…this one popped up on Craigslist a year or two ago and the $1,400 asking price was very fair.   I could write pages just about the nice gentleman I bought the car from but that would be a bit much.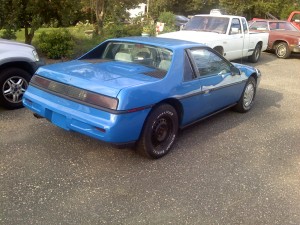 This one was probably just a dealer stock order since it has no interesting options to speak of: just A/C, automatic, tilt, tinted glass, and the UM6 AM/FM Stereo with cassette.   The Wal-Mart wheelcovers disappeared immediately and were replaced with some original P02 plastic covers that I had scrounged up years ago from who-knows-where.  
It's working on 8:30pm and this little guy is sitting at the parking garage at work, waiting to take me home.  I'm tired.  Hopefully the deer will be too tired to play chicken with me.
Until whenever…