I love estate auctions — the on-site ones.  Few things intrigue me more than learning about someone by rooting through all the crap they left behind.   The owner of a trucking company passed away & left The Fam with a most interesting smorgasbord of Trucktastic proportions.  He collected old Fire engines, tractor trailers, etc. but a bunch of medium & light duty old trucks and cars were thrown into the mix.
I showed up because I smelled 70's Big-Block Suburbia & Cheyenne for the taking…and seeing a factory 4-speed '67 Galaxie 390 Sportsroof in the flesh is not an everyday opportunity.
The Galaxie was all that and yeah, I sat in it & rowed through the shift gate just like your average six year old would do.  That car was incredible… bench seat, 4-speed, AM/FM radio… it sold for $8K thank goodness.   No chance of getting destroyed by the Donker crowd.
So I'm walking through the weeds between trucks and see a Colonnade… wow, a '73 Cutlass!  It wasn't -pictured in the auction ad and there was no tag on it either…just like the '59 Pontiac that was not part of the auction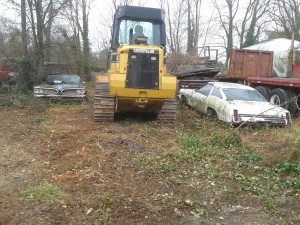 The chances of it being a 4-4-2 were slim but the closer I got….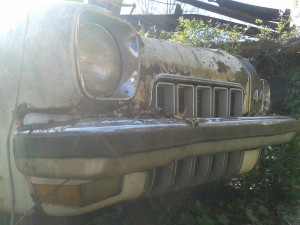 I realized that it was indeed a 4-4-2.  Keep in mind that 1973 GM products are my vehicular nirvana, and part of my bucket list includes every flavor of Buick-Olds-Pontiac de '73.
I approached the auctioneer about the car & he said they discovered the car AFTER cutting away the vegetation to access some older stuff behind it and after they had posted the auction listing.   I was bummed out but asked if there was any chance the family would consider selling it & he said he'd ask.   A few hours later while the auction was underway, I approached the head auctioneer (another auctioneer was taking over for awhile) and asked him if he had gotten a chance to ask the family.   I figured it would be a wash but he said, "hold up" and walked right over to some people standing in the back & after a minute, he came back, interrupted the other guy & said they would be adding an Oldsmobile 4-4-2 to the sale.  Unbelievable!  It really irritated the other auctioneer but they stuck it in there…
Some other loser ran me up to $600 but "Lot 60A" became my problem prize.   I knew the car was rotten beyond reasonable repair but just digging into the thing would be worth the $679 I ended up paying after all the fees, etc…  So what if the hood was stuck shut and there were no keys or title?   Sure it was just a 350 car (m-code: dual exhaust) but it was built at the Arlington plant which means it may still be hiding a killer build sheet somewhere…  I am a build sheet freak & am always on the hunt for them.  The Arlington Plant likes to stuff them behind the rear seat back & on top of the gas tank.
If there's any question to how rough this gem really is, this should remove any doubt: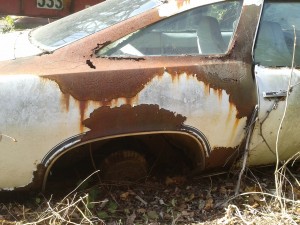 The trucking company owner drove this car to where I saw it close to 20 years ago & just let it sit there — the wheels were removed and three were replaced with mismatched rims… #4 here wasn't so lucky.
Four hours, two bumper jacks, four S10 wheels, several lug nuts, steering column lock cylinder removal, lots of RR brake drum beating and a quarter can of WD-40 got it off the ground anyway.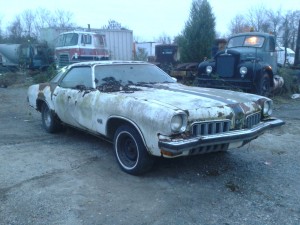 It came home & sat on the tow dolly for over two weeks — there was no time to fiddle with it & I still didn't know what was under the hood.  The THM400 transmission was making me wonder what was up…